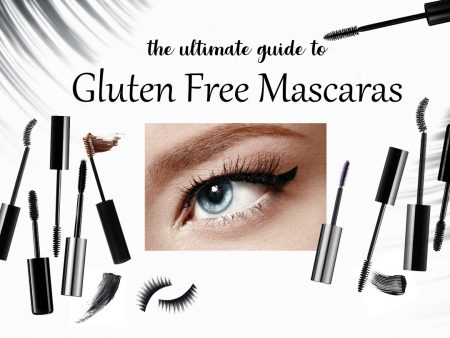 If you could only have one gluten free makeup product, what would it be?
Every time I've asked this question, the overwhelming majority answer gluten free mascara.
If that's you, then this is your article.
This all-important item of cosmetics is a real pain to find gluten free. Traditionally, mascara depends on wheat-derived ingredients to give it that extra oomph and wow. Or if it's not quite such a volumizing mascara, wheat-derived ingredients may be used to add to it's silky texture.
But even after you find a gluten free mascara, you've got one more problem to surmount.
It's hard to find a good one.
I've seen it all by now. Sticky, clumpy, flaky, smeary, itchy, washes away upon the faintest hint of water, you name it. The world of gluten free mascara can be like navigating in a swamp of black tears.
Seriously.
Don't navigate the swamp alone. I've reached out to nearly all the makeup companies out there and put together a list of mascaras brands that are 100% gluten free. I'll also share 5 of my favourite products. So keep reading to find out!
List of Gluten Free Mascara Brands
The following makeup brands are all gluten-free and offering a wide range of mascaras. This list will be kept as up to date as possible but brands may change their formulations. Be sure to double check the ingredients before you buy.
Best Gluten Free Mascaras
1. Gabriel Cosmetics' ZuZu Luxe Mascara
Unique to the gluten free mascara world, this mascara offers several colors: The usual Black and Brown, but also Navy and Clear. Wouldn't it be fun to get the black, paint your lashes, then dab the navy on the ends? This mascara is touted to be lengthening.
Buy from: Amazon
2. Mirabella's Lash Luxe Mascara
I've seldom run across a mascara as buildable as this one. It has a rubbery texture I'm not used to that is tacky for a little while after application. But when it finally dries it is super smooth to look at, no clumps or harshness. It layers and layers and layers with ease.
Mostly, this gluten free mascara adds length. However it isn't too shabby at volume either.
Buy from: Amazon
3. Honeybee Gardens' Mascara
I love this mascara. It's buildable, not clumpy and light feeling. It does takes a few seconds to dry and it pretty sticky until then, but after the initial drying process there is no problem. It doesn't give super oomph, but that's part of the reason why it's so light and gentle. The end result is very natural looking, with great definition and a silky look.
Buy from: Amazon
4. Mineral Fusion Volumizing Mascara
Mineral Fusion has been my go-to gluten free makeup brand, and I absolutely love their volumizing mascara!  It makes my eyelashes fuller, look natural and the coverage is great! It's also waterproof and cruelty free, so a big plus!
Buy from: Amazon
5.ILIA Limitless Lash Lengthening Mascara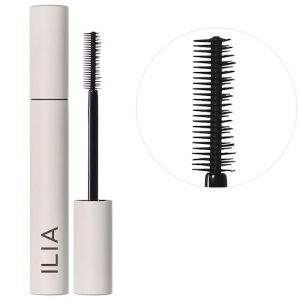 ILIA has a track history of being an excellent company, but will their mascara follow the tradition? I've only just started playing with the mascara and love it thus far. However the reviews across the internet are raving. So it looks like my initial impression is a pretty safe bet! This mascara is great at lengthening, I love it! It's not clumpy, and gives my eyelashes a very natural look. I also like that it has a lovely texture and all-day stay.
Buy from: Sephora
So there 'ya have it!
There are of course dozens other mascaras out there, but out of all of them, these are the top 5 to try.
Have you tried any of these mascaras? what did you think? let me know in the comments below!