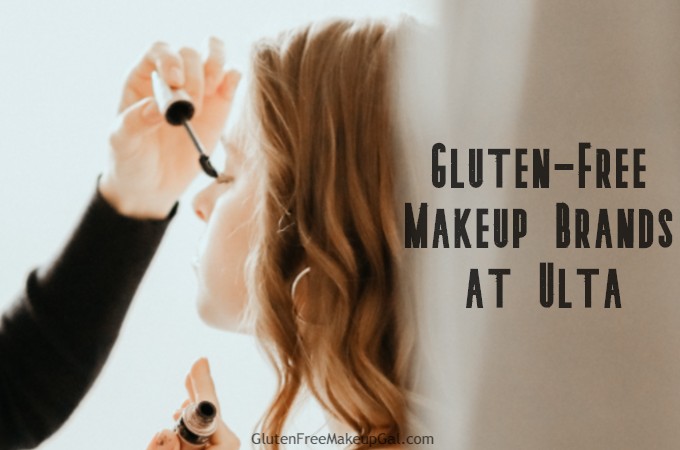 Trying to figure out what the Gluten-free brands at Ulta are?  This guide has you covered!
To help make things easier for you, I contacted every single company that is currently carried at Ulta, to ask about the gluten content in their products. With this knowledge in hand, I have put together a list of brands who claim their products are gluten-free.
It's important to note that, just because a product is free of gluten-ingredients, doesn't mean it's safely gluten-free. there's always the possibility of cross-contamination due to shared facilities. As always, it's up to you to decide where your comfort level is. If you're not-so-sensitive and just want to avoid major gluten ingredients, check out what you can buy at Ulta below.
Gluten-Free Makeup Brands at Ulta:
Here are the gluten-free makeup brands that are sold at Ulta, plus what each brand has to say about its gluten-free status.
Bare Minerals:
Most of our products do not contain oats, rye, barley or wheat
We often purchase the scents for fragranced products from outside suppliers, and the components of these substances are proprietary information belonging to those companies. Therefore it's possible that a very small amount (generally parts per million) of gluten may be present
CoverGirl:
If wheat and/or gluten are directly added to a product by us, these ingredients will be listed on our packages.
Some ingredients might be bought from outside suppliers, it's possible that a very small amount (generally parts per million) of gluten may be present
DERMAdoctor:
Some are gluten-free
May or may not have cross-contamination issues
E.L.F.:
Our products use all gluten-free ingredients
However, we cannot guarantee the equipment is gluten-free
Four Sigmatic:
All of our products are gluten-free and vegan.
None of our ingredients include gluten or are derived from an animal.
We do not use any Cordyceps that grow from caterpillars.
Our warehouses/facilities are not gluten-free certified.
Givenchy:
Not only can we ensure that none of our products contains gluten as an added ingredient in the formula, but in order to go even further in the vegetal risky proteins (including all wheat protein hydrolysates) from our products, even though these ingredients are still widely used elsewhere.
All documentation from our supplier indicates that the Tocopherol used in our products is gluten-free.
IGK:
All of our products are gluten-free
IT Cosmetics:
Yes, our products are gluten-free.
Jack Black:
Most, but not all, of our products are gluten-free.
Kopari:
Our products are always gluten free and never contain nut oils.
However, customers with allergies should review our ingredient decks with their healthcare provider prior to purchasing our products.To view a product's ingredient deck, find that particular product on the "Shop" page, then scroll down until you see "Full Ingredient List" on the right-hand side.
LASHFOOD:
Yes, our products are gluten-free.
Madison Reed:
Yes, all of our products—colors, shampoos and conditioners—are completely gluten-free.
Murad:
The list of products below have been identified to have a wheat or oat derivative in them. As with any allergy it is best to consult your physician if there is any concern regarding gluten.
ACNE CONTROL / ANTI-AGING ACNE
Skin Perfecting Lotion (low level, wheat and oat source)AGE REFORM®
Complete Reform with Glyco Firming Complex (wheat and oat source)
Intensive Wrinkle Reducer
Perfecting Day Cream Broad Spectrum SPF30 | PA+++ (wheat and oat source)
Perfecting Night Cream (oat source)
Skin Perfecting Lotion (low level, wheat and oat source)
RESURGENCE®Age Diffusing Firming Mask (wheat and oat source)TECHNOCEUTICALS
Clarity Control Professional Concentrate (oat source)
NUDESTIX:
All our products are environmentally friendly, not tested on animals, gluten free, and formulated with the most skin loving ingredients.
Ouidad:
Here is a list of our gluten- free products:
VitalCurl Define & Shine
Curl Quencher Hydrafusion Intense Curl Cream
Ultra Nourishing Cleansing Oil Shampoo
Curl Recovery Melt Down Extreme Repair Mask
Curl Immersion™ No-Lather Coconut Cream Cleansing Conditioner
Curl Immersion™ Low-Lather Coconut Cleansing Conditioner
Shine Glaze Serum
Clear Control Pomade
Advanced Climate Control De-Frizzing Shampoo
Curl Quencher Conditioner
Curl Quencher Moisturizing Gel
Playcurl Amplifying Foam
Moisture Lock Leave in Conditioner
Tarte:
All of our products are formulated without parabens, mineral oil, phthalates, sodium lauryl sulfate, triclosan, synthetic fragrances and gluten, just to name a few.
Tarte cannot guarantee that any ingredients or products were produced in an allergen free environment.
Too Faced:
All products are gluten free with the exception of our Borderline Lip Pencil
Some of the products may be produced on shared equipment so cross-contamination may be an issue
Velour Lashes:
To our knowledge, our adhesives do not contain gluten.
W3ll People:
Mineral Collection and Cream Stick Collection are gluten-free
YUNI:
Yes, our products are gluten-free.
Which of these brands have you tried? Did you like them? Or did they not work for you?
To see which gluten-free brands are available at Sephora as well, you can find a full list here.