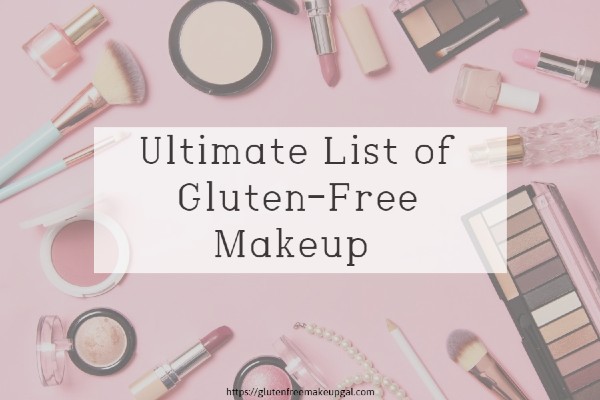 Welcome the GFMG Gluten Free Makeup List! The biggest collection of gluten free makeup, skincare, hair care and body care on the internet!
Navigating the conflicting world of gluten free makeup can be a real challenge. With no regulations setting the standard for gluten free makeup, no two companies mean the same thing when they claim their products are "gluten free". Do they really mean "gluten free"? Or do they mean "oh, it's only a tiny bit of gluten that can't hurt you". If you have reactions to topical gluten, or are a Celiac looking to minimize your exposure to gluten, this can be a very dangerous issue. Who can you trust to tell the truth?
Fortunately, after tons of calling, emailing, social media bugging and research, I've built quite a collection of safely gluten free makeup, skin care, hair care and body care products. I set high standards and grill companies mercilessly to ensure that their products are as safe as possible.
As always, this list will be constantly updated with new/departing brands.
Looking for gluten-free brands of a specific beauty product? Make sure you check our guides on:
List of Gluten-Free Brands
I've divided the list into 2 categories.
Strictly Gluten-Free: These are brands for extremely sensitive folk, where the products and the facility are all gluten-free.
Formulated without Gluten: These are for the less sensitive folk where no gluten ingredients are used, but there may be contamination in the facility. (Read below on why I'm including companies that fall into this category)
Pick whichever category fits you best and roll from there.
Strictly Gluten-Free (for the Extremely Sensitive)
Makeup
Afterglow Cosmetics – has apparently gone out of business. If you have any left, don't worry, it's still fine. If you run across leftovers in a store, GRAB THEM ALL. But they are no longer selling or making them, so they have been removed from the list.
Alima Pure –  natural mineral makeup, cruelty free
Au Naturale Cosmetics (available on Amazon) – 100% natural, cruelty-free, vegan 
BITE Beauty – high-quality clean makeup, 100% vegan
Concrete Minerals – 100% vegan, cruelty-free mineral makeup
Ecco Bella (also on Amazon) – 100% natural, cruelty-free
Emani – 100% clean makeup for sensitive skin
Everyday Minerals  –  all natural, vegan mineral makeup
Gabriel Cosmetics – the first certified gluten-free natural cosmetics brand
Honeybee Gardens – very affordable, natural vegan makeup
ILIA Beauty – organic, cruelty free
Illuminare Cosmetics – 100% clean mineral makeup for sensitive skin
Juice Beauty (only Phyto-Pigments)
Lauren Brooke – natural, alergen-free makeup
Lemongrass Spa
Lily Lolo  – high-quality natural mineral makeup
Mineral Fusion  – leading brand of clean mineral cosmetics
Mirabella – high-quality natural mineral makeup; entire product lineup is Paraben-free, Gluten-free
NARS Cosmetics – no longer GF, read my post here
Omiana – 100% natural makeup for people with sensitivities
Red Apple Lipstick
RMS Beauty (also on Amazon) – pure organic makeup 
Root Pretty
Sweet Leilani – non-toxic plant based makeup
TEMPTU – known for their airbrush makeup
Vapour Organic Beauty – all-natural, organic beauty
Zuzu Luxe – a sub brand of Gabriel, 100% all-natural 
Skincare
Arigato Skincare
Bubble and Bee
Gluten-Free Savonnerie
Lemongrass Spa
MUSQ Cosmetics
Nelsons
Raw Skin Ceuticals
Root Pretty
Savvy Boheme
Sevani Beauty
Shea Touch
Haircare
Nails
Body and Bath
ACURE
Booda Organics
Bubble and Bee
Gluten-Free Savonnerie
Keeki Pure & Simple
Kopari
Pretty Frank (formerly Primal Pit Paste)
Root Pretty
Seed Body Care
Shea Touch
Formulated Without Gluten (for the Less Sensitive)
Makeup
Skincare
Hair Care
Nails
Bath & Body
Why On Earth Is There Gluten In Makeup?
Unlike most gluten foods like bread, most makeup products are not based on wheat, barley or rye products. They are typically added as a supplement to base ingredients. Why?
Texture.
Just like in food, gluten-based additives are used as binders, for additional moisture and to beef up the nutrition. Wheat ingredients are cheap and easy to come by. Some of them (like wheat germ oil) have actually been found to be good for skin.
Well. Good for most people.
Do I Need Gluten Free Makeup?
That depends on your level of sensitivity. Both Celiac and Gluten Intolerant people can have reactions to topical gluten. In 2014 I ran the largest survey to date of people who actively seek out gluten free cosmetics. The results?
53% avoided topical gluten because they had reactions to it.
28% avoided it out of cross-contamination concerns.
10% chose "Other", and left comments to explain their reasons.
9% avoided it because their doctors told them to.
For those with reactions to gluten on their skin, their symptoms were diverse. However the most common included:
Rashes
Burning, Watery  and/or Swollen eyes
Hair loss
Vertigo
Internal "Like I've been Glutened" symptoms
Headaches
Hives
If you suffer from any of the above symptoms and haven't been able to trace it to food, then it's possible you are sensitive to topical gluten. In that case, making sure all your makeup is gluten free is crucial.
However, even if you don't suffer from any of the above symptoms, if you are internally sensitive it may be wise to avoid gluten in any makeup or skin care that may be injested.
Lipstick? Lip gloss? Lip balm? All of them. Make sure it's gluten free.
Why are companies that may be processed with gluten are included in the list?
Well, 2 years ago when I took a survey of you, my readers, about 60% of you told me you didn't mind your makeup having potential cross-contamination.
And now, after a whirlwind of illness and then sudden crazy healing, I'm personally less topically sensitive to gluten too.
DON'T WORRY: The companies are carefully separated.
I hope this list has made it easier for you to find gluten-free makeup. I'll be updating this list as I hear back from companies, so keep an eye out for that as well. Feel free to list some of your favorites in the comments!
Looking for different gluten-free makeup guides? I also have them for Sephora and Ulta.