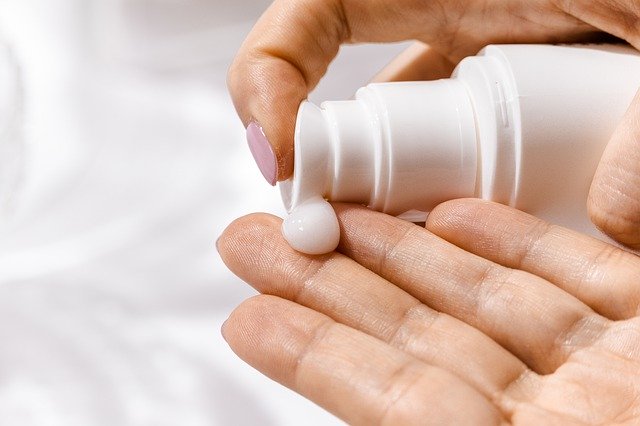 Summer is HERE and it's absolutely brutal. Here in Texas, we're frying alive in the blistering rays of the sun. Tonight it's in the upper 90's until the sun goes down. No joke.
With all this insane heat, it's time to really pack on the SPF. It's not terribly difficult to find gluten free sunscreen, but finding gluten free facial moisturizers with built-in SPF? Nearly impossible.
So I've gathered all the best gluten free SPF 15+ facial moisturizers I can find. Check 'em out!
1. Juice Beauty SPF 30 Oil-Free Moisturizer

This is a holy grail SPF Moisturizer for many with oily, acne prone skin. It's all natural, oil-free and keeps your skin moisturized without the greasy residue or breakouts. Meanwhile, it's made with 20% zinc oxide for superior protection against the sun rays.
Ideal for oily, combination, and blemish-prone skin types
Mineral zinc sunscreen (chemical free)
Light, blends in easily
Vegan & Cruelty Free
2. Solar Rx Broad Spectrum SPF 30 Moisturizer
A beautifully moisturizing, everyday cosmetic sunblock, this moisturizer provides great sun protection while keeping it gentle to the skin. It's been featured on the Environmental Working Group Skin Deep Report as the safest moisturizer with UVA/UVB protection on the market.
Chemical free
Moisturizing and gentle enough for daily, year-round use
Vegan & Cruelty Free
Soy free
Where to buy: Amazon
3. ACURE Radically Rejuvenating SPF 30 Day Cream

This day cream from ACURE doubles as a natural mineral-based sunscreen. It has smooth creamy texture and blends easily  without leaving a white cast. Plus, it's very affordable and a little goes a long way!
Good for all skin types
Reef-Safe Zinc – provides broad spectrum protection
100% Vegan & Cruelty Free
Where to buy: Amazon, Ulta, Target, iHerb
4. Cleure Sunscreen SPF 15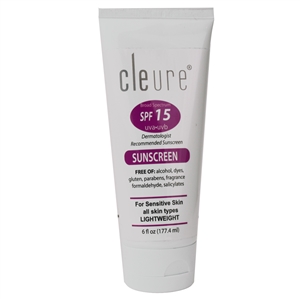 A brand that focuses mostly on skincare, it's hardly surprising that Cleure would tackle gluten free SPF facial moisturizers. It's only SPF15, but in trade you get a lighter, less chalky finished look. It's based in shea butter, so smoothing it on under your makeup is like putting on a deep moisturizing treatment.
Non-comedogenic
Hypoallergenic
Fragrance free
Made in the USA
No animal testing
Where to buy: Cleure
5. California Baby SPF 30+ Sunscreen Lotion

Known for their incredibly gentle baby care products, California Baby also makes equally gentle products for adults. This sunscreen lotion works for the whole body, but is advertised to be safe for the face as well. With SPF 30+, it's really hard to wrong here!
Water-resistant for 80 mins
broad-spectrum
non-comedogenic
one of the Environmental Working Groups Safest Sunscreens
Where to buy: Amazon
Have you tried any of these products before? Did I miss any of your favorites? Let me know in the comments below!