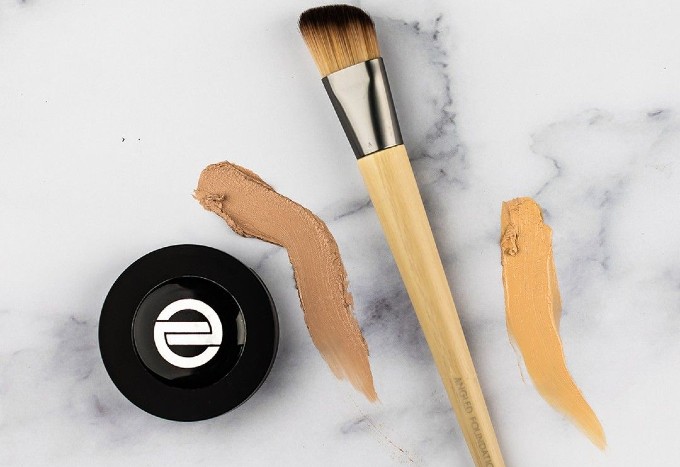 I'd never even heard of mica allergies until one of my readers asked me to help her find some gluten and mica-free makeup. My brain went "Wha!? It's possible to be allergic to a mineral!?" And then I stopped and thought about it and realized that I'm "allergic" to part of a plant. ¯\_(ツ)_/¯
At any rate, mica free makeup is even harder to find than gluten free makeup. But there is one company who is the Queen of mica free makeup – Omiana. Not only do they have the widest selection on the market, they are an entirely gluten free company producing strikingly excellent products.
In fact, Omiana have become my new go-to makeup brand.
Creamy Matte Intense Coverage Foundation Pot
With a rich, creamy texture that glides on like softened butter, this foundation feels like it will surely melt away entirely. Except it doesn't. Lightweight but incredible coverage, this moisturizing foundation doesn't clog pores, smooths both skin color and texture, and leaves a dewy finish that seems to glow with health.
I've worn this foundation set with the loose powder foundation all day in the Austin summer heat. And you know how I looked at the end of the day? Still totally rockin'. This foundation stays remarkably well, covers exceptionally, and does not make acne-prone skin break out. I'm not kidding, this is my new favorite foundation, y'all.
Intense Coverage Matte Liquid Foundation
With good coverage and a velvety texture, this foundation is an easy yes to your kit. You won't be kissing your concealer goodbye, but for uneven texture and mild breakouts, this foundation does an outstanding job with minimal product.
Due to it's texture, it's best not to build this foundation too much. Use a little bit, then conceal anything you can still see and don't want to see. Setting with powder is optional. It stays pretty well without setting! But if you live in heat and/or have oily skin, setting it is a good idea.
Loose Powder Foundation
A pretty, smooth texture characterizes this powder foundation. The coverage is fair, especially for a powder foundation. Per usual, it's entirely mica free. A very rare thing in mineral foundations! This is one of the founding products of the Omiana line. It's fantastic used by itself, and also excellently sets both the cream and liquid foundation.
Under-eye & Blemish Intense Coverage Concealer
Oh. My. God. Cannot even begin to tell you how much I love this concealer. Ha, nah, that's a lie, I'm gonna tell 'ya. This concealer has so much coverage, it's insane. When I put it under my eyes, it brightens everything incredible well. Bu-bye under-eye darkness! But best of all? As long as you don't pile it miles high, it never creases or settles. A little dab will do 'ya, and once you smooth that on, it will last all day. For the best results, I always set it with their loose powder foundation. It just looks incredible.
It also works amazingly for those bright red blemishes that want to wave hello past anything you slap on them. The coverage is so intense, it can cover a multitude of imperfections.
Black Strong-hold Mascara
I really love the look of this mascara. It thickens and lengthens, while having a jet black look. It's a bit messy at first, but dries quickly. I'm the worst at applying mascara cleanly, so if it's possible to smear it over your eyelid, I will do it.
The lasting power is good, especially if there is no moisture involved. But I've noticed if I don't set under my eyes properly, or if I sweat too much, or my eyes water, this mascara immediately begins to transfer. I've yet to see it run entirely, but bear in mind if you're wearing this and there is likely to be moisture, you'll want to keep an eye on it as the day goes by. Despite this, I end up reaching for this mascara again and again.
Check out omiana and their incredible collection of beautiful products!