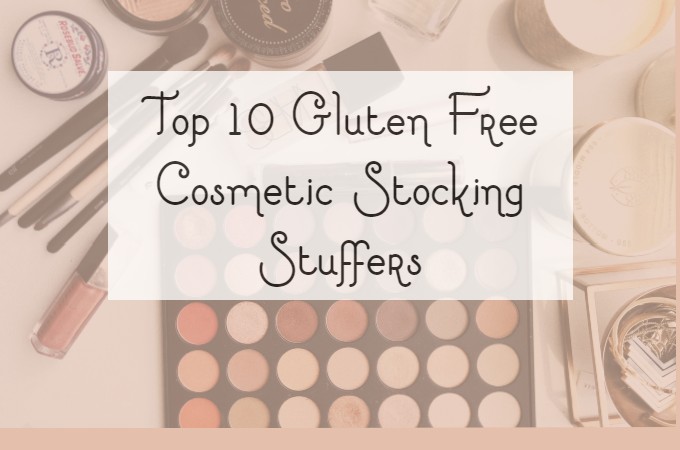 I love stockings!  I love the little things tucked away inside the over-sized sock.  I love how creative and meaningful these tiny things can be.  I love how each stocking reflects the personality of the receiver.  And I love knowing how much care has gone into stuffing each one.  Such a warm, fuzzy feeling as you dip your hand into the mysterious depths of the stocking.  And of course there's the fun of not even having a clue what's down there!
Thinking of stuffing your loved ones stockings with makeup and face care items this year?  Here's my top 10 list!
Alima Pure's Luminous Shimmer Eyeshadow (lightly sparkly eye shadows FTW!! 😀 )

Pangea Organics Japanese Matcha Tea Mask (just learned Pangea Organics is entirely gluten free!! Post coming soon on that.)

Cleure's Natural Nail Polish (rich shades) (all natural nail polish that are such lovely colors!)

Afterglow's Powder Eyeliner (delightfully versatile- can also be used as an eye shadow)

Ecco Bella's Lip Crayons (like a lipstick, lip liner and lip treatment all in one! Never seen anything quite like it.)

Ecco Bella's Dark Chocolate Face Mask (this looks yummy enough to eat.)

Pure Skn's Lip Plumper (wooo!! All natural GF lip plumping stuff!! )

Red Apple Lipstick's Lip Gloss (long lasting and SUPER shiny!)

Afterglow's Mineral Eyeshadow ('cause there's no such thing as too much eye shadow)

Red Apple Lipstick's Lipstick ('cause everyone could use another tube of gluten free lipstick and this stuff rocks! 😀 )
And there 'ya have it! There's sooo many awesome things out there, it was hard to make it just 10. 😛 Here's hopin' some of this lands in some lucky gal's stocking this year!