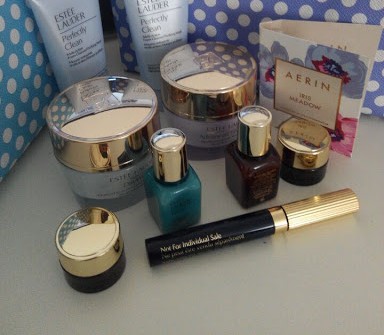 Estée Lauder is everywhere. Everyone has access to it, and so it was no surprise for me to receive a gift set of their makeup. So I sent off an email to them on 05/15/2011, asking-
Do you have a list of which of your products is gluten free, if any?

Thank you!
~ The Gal
But after about a week, I still had received no reply. Annoyed and determined to get my answer, I called the company. Three or four branch switches later, I finally spoke to someone who knew what on earth I was saying when I asked "Do you have a list of products that do not contain gluten?" He told me that because the formulas and ingredients in the Estée Lauder products are constantly changing, they were not able to post a list on the website.
However, if one were to call, they could tell them which products were currently "gluten free". With the thought "Geez, what a lot of trouble," running through my head, I read off the products that came in my gift set, one by one. He checked his list and told me which ones did not contain gluten and which ones did. He even knew that "cereal grains" probably meant gluten, so advised me to avoid it.
Turned out, according to his list, most of the makeup in my set was "gluten free". Naturally, I was pleased. Not that I have any desire to stock up on cheap makeup, but if one's in a pinch, that's great to know, right? Ahem, well…
I used my makeup rather gleefully, playing with the eyeshadow shades and lipsticks, testing out color arrangements and stuff like that. But I began to notice that my eyes felt especially swollen and sore on the days that I had worn makeup, especially after several days of wearing it in a row.
At first, I wondered if it was my eyeshadow base, which I had purchased a long time back, before I realized how important gluten free makeup was. So I ditched it and purchased a different brand (which I will be posting about in the near future). But no, I still felt glutened.
It wasn't until I winged out one of the Estée Lauder eyeliners that I finally figured out where my problem was coming from. I had used the eyeliner before, but never tried winging it out. As I traced out the second line on my other eye, I suddenly realized that my eye was on fire. It only took a moment to realize that it was the eyeliner burning my skin, so I hastily removed it. But not before it left a raw and inflamed line directly on the spot I had applied it.
Only then did all the pieces fall into place.
Only when I used my new makeup did my eyes hurt.
Just because the current recipe of Estée Lauder makeup is gluten free, how do I know that the recipe I've got is gluten free? If it's so variable, then that would mean that gluten is on all of the machines, at any given time. In other words, NO WAY to really know if Estée Lauder makeup is 100% gluten free. And so, all my Estée Lauder went out with the banana peels.
Over a month later, Estée Lauder FINALLY replied to my email. Pft, talk about lousy customer service.
Dear the gal,

Thank you for taking the time to contact us and for your interest in estée lauder.

As you may know, our product line is quite extensive. Therefore, in order to respond to your inquiry regarding gluten, we need to know the exact name and shade (if applicable) of the product(s) which you use or would be interested in using. We will then consult our laboratories and share our findings with you.

We trust that the above addresses your concern. We hope you will look to estée lauder for all your beauty and fragrance needs.

Sincerely,

Boaz Levin
Response Representative
Global Consumer Communications
Estée Lauder Companies
Sorry, bud, you're too late. I am never buying Estée Lauder products again.
Looking for more gluten-free brands?
Here on Gluten Free Makeup Gal, I've built a list of all the safest gluten free bands of makeup, skin care, hair care and body care on the market. You can also check the following guides on: